Duterte's Con-Com eyes 17 regions, plus NCR, in planning federalism shift
Details

Camille Elemia, Rappler

Hits: 448

The list of 17 federated regions outside NCR include the present regions and reinstates the Negros Island Region recently abolished by Duterte:
Ilocos Region; Cagayan Valley; Central Luzo; Calabarzon; Mimaropa; Bicol Region; Western Visayas; Negros Island Region; Eastern Visayas; Central Visayas; Zamboanga Peninsula; Northern Mindanao; Davao Region; Soccksksargen; Caraga; Cordillera Administrative Region; and Autonomous Region in Muslim Mindanao.
Tayao said the 17+1 proposal is politically feasible because "no one will feel threatened that their powers and functions are suddenly clipped."

There would also be opt-in or opt-out provisions, which will allow provinces to identify which federated region they would join, based on proximity and political consolidation.
On Wednesday, April 25, Duterte's Con-Com consulted the country's economic managers on how best to configure "economically viable" federated regions.

Among those who attended were Socioeconomic Planning Undersecretary Rosemarie Edillon, Finance Undersecretary Bayani Agabin, Department of Budget and Management Director Leila Magda Rivera, and Philippine Institute for Development Studies president Celia Reyes, among others.

Also present were Office of the Cabinet Secretary Assistant Secretary Marlon Broto and Interior and Local Government Assistant Secretary and federalism campaign chief Jonathan Malaya.

Con-Com earlier came up with indicators – called RISE UP or Readiness Index for Sustainable Economies Under PH-ederalism – to determine how each province is ready for the shift. They assigned a value or index to each indicator and had it checked by PIDS.
The Con-Com's indicators include the following: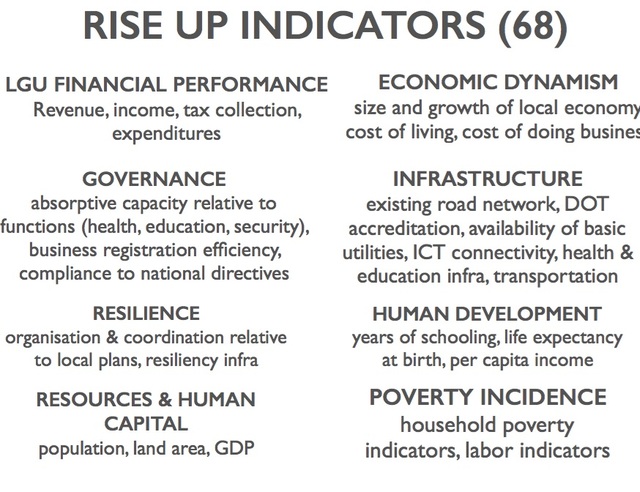 From Prof Tayao's presentation
PIDS, for its part, questioned some indicators and suggested new ones. The Con-Com will now wait for the updated indices from the PIDS before plotting regional division under the proposed Charter.